Welcome to the Copywriting For You blog. Dive into some of the insights I have captured throughout the years as a freelance blogger and copywriter. From crafting compelling headlines to refining your storytelling techniques to keep your readers engaged, this blog will help you understand what to look for in a copywriter to help drive traffic to your website.
As a seasoned freelance blogger and copywriter, I've accumulated a wealth of insights and expertise over the years, and I'm thrilled to share this knowledge with you.
In my blog, I take my readers through the art and science of effective copywriting and my journey to become a full-time freelancer blogger. 
And my mission is clear: to help you understand the crucial aspects of choosing the right copywriter for your needs and ultimately driving more traffic to your website. So, whether you're a business owner seeking to enhance your online presence or an aspiring copywriter looking to refine your skills, my blog is your go-to resource for valuable insights and actionable tips.
Check out the Latest Blogs from Copywriting For You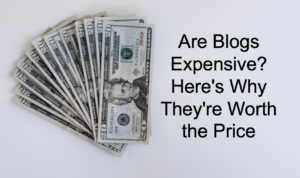 Discover the true worth of blogs, how they amplify online visibility, and why quality always prevails. When hiring bloggers, choose wisely for lasting success.
Read More »